Educate and Advocate: Black Lives Matter Book Suggestions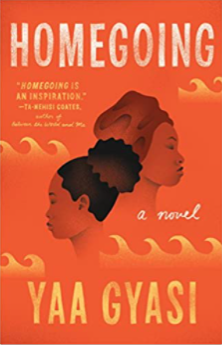 During the rise of Black Lives Matter protests, it is essential to promote education about the history of racism and its relevance in the modern age. One way to do so is by encouraging dialogue through literature. With the help of Morris Hills librarian, Mrs. Lazarro, I have compiled a list of books that recognize the significant literary contributions of Black writers, poets, and historians. Some works are more challenging than others; however, the content remains meaningful regardless of the difficulty level. Topics, including slavery, police brutality, and the role of race in society, are covered within the list. 
Remember: education does not cease outside of school grounds! Especially with the Summer Read open to choice this school year, take the opportunity to consider one  these titles. All works are about Black lives, written by Black authors.
Slavery 
Homegoing by Yaa Gyasi
Historical Fiction
Homegoing tracks the impact of slavery throughout generations of an African family, separated by continents. This novel is recommended by Mrs. Yaeger.
Beloved by Toni Morrison
Realistic Fiction
Inspired by the life of Margaret Garner, Morrison tells the story of an African-American woman, Sethe, who escapes slavery in Kentucky. Sethe is haunted by the death of her baby whose tomb is inscribed only by the word "Beloved."
The Harsh Reality of Police Brutality
The Hate U Give by Angie Thomas
Realistic Fiction
When Starr Carter's childhood best friend is shot by a police officer, she must find her voice as she grapples with racism and grief. Thomas brings light to the aftermath of police brutality and prejudice towards Black communities.
All American Boys by Brendan Kiely and Jason Reynolds
Realistic Fiction
All American Boys observes a violent encounter between an innocent young black man, Rashad, and a local police officer. Rashad's witness is his white classmate, Quinn, a friend of the officer's brother. Told from the perspectives of Rashad and Quinn, All American Boys explores the complexity of relationships in the midst of racism.
Dear Martin by Nic Stone
Realistic Fiction
Bright, ambitious Justyce McAllister turns to the works of Martin Luther King Jr. for direction after facing unjust complications with a police officer, who was cleared of all charges. After he witnesses the shooting of his best friend by an off-duty cop, he finds solace in writing a ruminative letter to MLK. 
Learn About The Role of Race in Society
This Book is Anti-Racist by Tiffany Jewel
Non-Fiction
Geared towards a younger audience, Jewel's book assists young adults in how to respond to racism and work in solidarity against racial discrimination. Insightful and helpful, This Book is Anti-Racist can help one better understand the racism they witness in their personal life, and world at large.
So You Want to Talk About Race by Ijeoma Oluo
Non-Fiction
Oluo takes a straightforward approach in discussing issues such as privilege, police brutality, intersectionality, microaggressions, the Black Lives Matter movement, and racist language. So You Want to Talk About Race offers a bridge between people of all races to better understand a sensitive subject matter.
Stamped From the Beginning by Ibram X. Kendi
Non-Fiction
Kendi explores the roots of racism, following the lives of four American historical figures: Thomas Jefferson, W.E.B. Du Bois, William Lloyd Garrison, and Angela Davis. If you would like to read more from Kendi, check out How to Be An Antiracist.
How it Went Down by Kekla Magoon
Realistic Fiction
Magoon portrays the division of a community due to the death of sixteen-year-old Tariq Johnson, a Black boy, at the hands of a white shooter, Jack Franklin. 
Poetry
The Complete Poetry by Maya Angelou
A complete collection of poetry from the famous poet, singer, memoirist, and civil rights activist, Maya Angelou.
Good Morning Revolution: Uncollected Writings of Social Protest by Langston Hughes
A collection of poems, and prose writing, from the renowned poet, writer, and social activist, Langston Hughes. These writings describe the feeling of Black Americans towards white domination in their country in the early-to-mid 1900s.
Banned Books (Not suitable for all audiences)
The Color Purple by Alice Walker
Realistic Fiction
The Color Purple documents forty years in the life of Celie, an African American teen living in Georgia who faces extreme abuse and bigotry. The book is narrated in the form of brutally honest letters from Celie to God. Walker's novel should be read by older teens.
The Bluest Eye by Toni Morrison
Realistic Fiction
Set in 1941, post- Great Depression, Morrison writes about a young African-American girl, Pecola. Pecola is consistently regarded as "ugly" because of her dark skin. The protagonist believes that if she could have white skin and blue eyes, she could finally be loved. This book should be read by older teens, due to its mature topics.
Novellas
Genesis Begins Again by Alicia D. Williams
Realistic Fiction
Williams tells the story of a self-loathing 13-year-old girl, Genesis. The protagonist must overcome internalized racism and a verbally abusive family to learn to love herself, especially the darkness of her skin.
Ghost Boys by Jewell Parker Rhodes 
Realistic Fiction
After being shot by a police officer who mistakes his toy gun as a threat, the twelve-year-old Jerome, now a ghost, watches devastation unfold in his family and community as a result of the brutal killing.