"It's Kind of a Funny Story" Book Review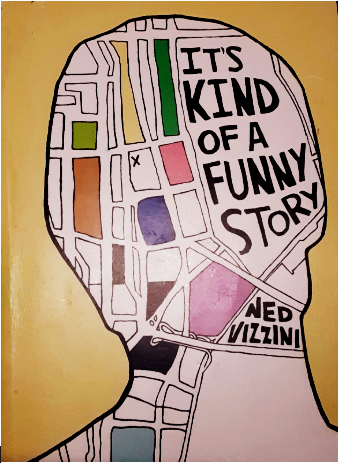 It's Kind of a Funny Story is told from the perspective of Craig Gilger, an ambitious 15-year-old accepted into Manhattan's Executive Pre-Professional High School. What he expects to be the school of his dreams rapidly turns into a nightmare as he faces extreme pressure to keep up with school and a troublesome social life. Grappling with depression, Craig's mental and physical state eventually spirals. One night, Craig nearly commits suicide. This suicidal episode prompts Craig to check into a mental hospital where he meets the curious, scarred Noelle, boisterous President Armelio, an aggressive man by the name of Humble, and other unique neighbors. Although each individual is admitted under different circumstances, they are united by a similar sentiment of broken-ness. Through his unlikely circle of support, Craig learns to no longer fear living.
Written by Ned Vizzini, the author of Be More Chill, It's Kind of a Funny Story is simultaneously witty, heartbreaking, and raw. Vizzini effectively makes the reader feel a connection with every character, ranging from positive to negative. While reading the dialogue-driven text, I found myself enraptured by the characters' humorous and genuine interactions. Their conversations made me react with emotion– whether it was frustration at Humble's ignorance, sadness for Noelle's low self-worth, or hope for Craig's future. 
Notably, the novel contains themes of suicide, mental illness, and drug abuse. It's Kind of a Funny Story, although at-times a heavy read, attacks these subjects in a way that renders discussion and thoughtfulness. Despite initially being self-deprecating, Craig is a positive model of how to react towards one's mental illness. He openly discusses depression with his parents, seeks therapy, offers support towards his neighbors, and receives medical attention when impaired by suicidal thoughts.  It's Kind of a Funny Story strips away the stigma of mental health; furthermore, the novel encourages teens to speak up and seek support.
Vizzini's authentic words can reach a diverse audience of young adults. Simply, It's Kind of a Funny Story is a well-written novel about a difficult subject. Depression and suicide are certainly not light-hearted topics; however, It's Kind of a Funny Story is anything but a tale of misery. It is a story of encouragement, life, and the opposite of being alone. Craig Gilger's journey to discover the value of living is one not to miss.