BTS: The Incomparable Legacy They Created
Right now, BTS is lighting up the world like Dynamite (pun intended). Some groundbreaking achievements from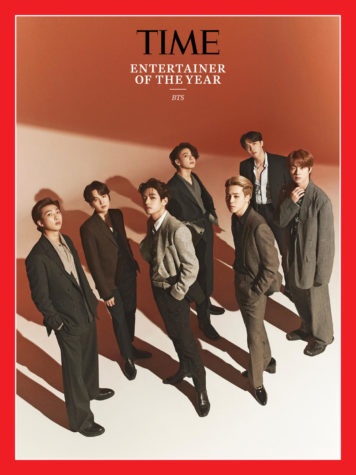 their lengthy list include best selling-album in South Korea, most streamed group on Spotify, most viewed YouTube music video in 24 hours, first K-pop band to perform and be nominated for a Grammy award, and most followed group on Instagram. 
Even though an introduction is not needed, BTS is a world-famous K-pop boy band. They consist of seven members known by their stage names: RM, Jin, Suga, J-Hope, Jimin, V, and Jungkook. These seven idols have stolen the hearts of their international fandom and accomplished historical milestones. Their dedicated and powerful fanbase is known as ARMY. Through hard work, dedication, and incredible amounts of talent, they have broken a total of 25 Guinness World Records so far, including some of their own. BTS has earned the prestige of being the most successful boyband in the world, but it did not happen overnight. 
When BTS started their career, they were often looked down upon by other music tycoons. Their music agency BigHit Entertainment was nearly bankrupt at the time the seven members joined. A lot of people in the K-pop industry doubted that they would ever make it big due to them coming from a relatively unknown agency. At the beginning of their careers, they even had to share one small cramped bedroom. BTS often recorded their music in a garage and once, even had to ask people to attend their free concert. However, this group rose to stardom despite the odds they faced. They overcame countless hardships and continued to create for their fans. BigHit Entertainment (now renamed HYBE Corporation) is estimated to be worth $5 billion dollars today.
There is no question that BTS has talent. However, the subject of their music is what draws their diverse audiences. Although the majority of their fans are non-Korean speakers, their lyrics (courtesy of Genius Lyrics and Google Translate) are relatable and anyone can find themselves awed by their incredible voices and performances. Through their songs' meaningful lyrics (oftentimes written by the members themselves), captivating choreography, and mesmerizing visuals – this combination allows them to dominate the music industry and continue to break records. Their music is inspired by authentic, relevant social issues that many people, especially youth, tackle today. 
In their song "Magic Shop," the group warns against the toxic cycle of comparing yourself with others and placing harmful amounts of pressure on yourself:
"I always want to be the best
So I was impatient and always restless
Comparing myself with others became my daily life
My greed that was my weapon suffocated me and also became a leash"
In their song "So What,"  BTS motivates youth to continue pursuing their goals despite any setbacks they may face:
In a sigh, lots of worries are hiding
Stop thinking about it, You already know it all
In the middle of the road, in the moment you want to give up
Shout out louder
So what, what, what
In their song "Tomorrow," the group sympathizes with how many youths are fearful of the future and frustrated that they are far from achieving their accomplishments:
I have a long way to go but why am I running in place?
I scream out of frustration but the empty air echoes
I hope tomorrow will be different from today
I'm just wishing
In their song "Dope," the group criticizes how older generations often look down on the youth and all the potential they hold to be successful:
The media and adults say we don't have willpower, condemning us like stocks"
In their song "Go-Go," BTS brings attention to consumerism culture and how many people dream of making huge amounts of money to just waste it impulsively on extravagant items and to follow ridiculous lifestyles:
Dollar, dollar
Squandering it all in one day
Run, run, man, I spend it like some party
Dollar, dollar
Till the sun shines through this mouse hole
Till the sun comes up
These lyrics are just a few of many examples of why BTS' music receives so much praise. They are admired for their realness and vulnerability as they are not afraid to bring awareness to issues like mental health, youth feeling pressured to live up to people's expectations, corruption in society, and so much more. Fans feel connected with their music and form personal bonds with their songs. It is rare to see artists in the K-pop industry touch on these controversial topics. The K-pop industry is notorious for having complete control of their artists' music, but BTS goes against this standard. BTS conquers these topics that are considered taboo in Asian culture as they value real and raw lyrics that people can relate to in different ways.
The band is notoriously known for advocating their fans to love themselves. They even created a three-part album series: Love Yourself: Her, Love Yourself: Tear, Love Yourself: Answer. These albums tell the story of someone who tried to fall in love with someone (her) but they soon realized that in order to receive love and love someone, they must love themselves first. The message of self-love and self-acceptance is arguably the most impactful project BTS is known for.  
In 2017, the group partnered with UNICEF to end global violence against children after releasing the Love Yourself albums. Their campaign is known as the LOVE MYSELF campaign, which ties into the theme of their music. A portion of their album sales and all of their profits from their merch were donated to the campaign. As of August 2021, the campaign's website states that over $3.8 million dollars were donated to the campaign.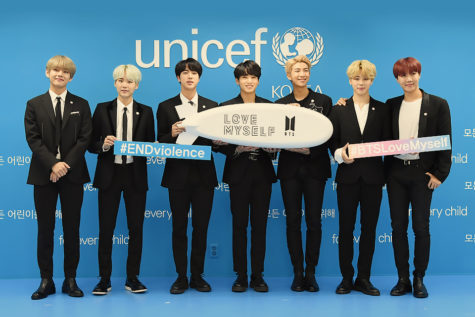 BTS' mounting success in the music industry does not outshine the role they play in global politics. They use their platform for good use as much as possible.  For example, the group has donated to a variety of philanthropic organizations. J-Hope donated more than $89,000 to support a center in Tanzania that provides aid to children who have been victims of violence. On his 28th birthday, Suga donated over $88,000 to a medical center in his hometown of Daegu to help kids battling cancer.  During the Black Lives Matter protests in America, BTS donated $1 million dollars to the Black Lives Matter Movement to show their solidarity. Their extremely dedicated fanbase took to social media and trended #MatchAMillion, and they accomplished this goal by also raising more than $1 million. 
The group was also invited to speak at the United Nations General Assembly in 2018, becoming the first K-pop group to do so. The leader, RM gave a moving speech, discussing the struggles he faced by trying to listen to his heart and follow his passion for music. Through his own words, RM directly addressed young audiences by saying "Tell me your story. I want to hear your voice, and I want to hear your conviction. No matter who you are, where you're from, your skin color, gender identity: speak yourself."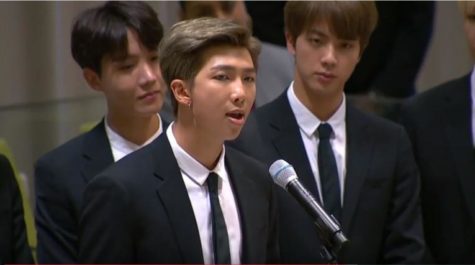 In 2021, the group returned to the United Nations. They were appointed by South Korean President Moon Jae-in as the "Presidential Special Envoy for Future Generations and Culture," an extremely high honor. This time, all members gave a comforting speech to younger generations and spoke about the importance of being vaccinated in order to fight against COVID-19. They performed their hit song "Permission to Dance" as well. 
The group also condemned the rise of anti-Asian attacks during the COVID-19 pandemic and released a statement in light of the 2021 Atlantic spa shootings in which 6 out of the 8 victims were Asian women:  
"We recall moments when we faced discrimination as Asians. We have endured expletives without reason and were mocked for the way we look. We were even asked why Asians spoke in English. We cannot put into words the pain of becoming the subject of hatred and violence for such a reason."
The group has unfortunately faced intense criticism and hatred since rising to global prominence. Many comments are even racially motivated. In February 2020, German radio host Matthias Matuschik described BTS as "some crappy virus that hopefully there will be a vaccine for soon as well." He later denied accusations of racism by stating "I have nothing against South Korea. You can't accuse me of xenophobia only because this boy band is from South Korea … I have a car from South Korea. I have the coolest car around" (His car is actually Japanese). In 2020, "The Howard Stern Show," discussed the concern over coronavirus cases rising and spreading globally. Staff member Salvator Governale claimed, "There's no way those guys [BTS] don't have the coronavirus." In 2019, an Australian TV show 20 to One, British comedian Jimmy Carr was featured on the show. He made an insensitive joke about the South Korean band's success being equated to a nuclear bomb exploding. Carr claimed, "When I first heard something Korea had exploded in America, I got worried." He later added "So I guess, it could have been worse… But not much worse." The hosts of the show were surprised that BTS had a No. 1 single in the United States since "only one band member actually speaks English." The show continued to mock the band for being invited to speak at the United Nations, joking that RM was there to speak about "hair products." 
They often struggle with anti-Asian discrimination and being the subject of Western stereotypes. Despite all of the bigotry they face, BTS triumphs as their success buries all of the criticism. The ignorance does not phase them as they continue to use their power to inspire their fans to give back and use their voices to advocate for social issues. 
In a time filled with turmoil and chaos, BTS is the light of hope and inspiration that continues to shine. They have redefined the music industry and have broken cultural barriers to teach their fans the importance of accepting who they are and being proud of their differences. 
BTS members use their music to find the beauty in themselves while accepting their flaws and mistakes. They remind youth to keep dreaming big despite all of their doubts and worries. Although many people equate them to being just a "K-pop boy band," there is so much more behind the scenes (although in this case, BTS doesn't actually stand for behind the scenes). BTS continues to rewrite history and make their fans' hearts melt like Butter (pun intended).