Cast Brings Passion to 'Peter and the Starcatcher'
It's 1885. Photos of Queen Victoria render salutes of "God save her!" A young Peter Pan is not the beloved character of Neverland yet — he is merely an orphan lost in the world. Telling his story is a task that those in the Morris Hills musical have taken up with their performance of "Peter and the Starcatcher."
As the English orphan, Peter gets tangled up in a 19th century-style bait-and-switch scheme. He winds up on a ridiculed ship, the Neverland, which carries an exquisite trunk full of useless sand. The more-important ship, the speedy Wasp, has a secret cargo of note to Queen Victoria and destined for a far-off kingdom. Finding out what is in the secret cargo, and going on subsequent adventures, helps Peter grow into the character seen in Disney's 1953 film, "Peter Pan."
This year's musical stars senior Kyle Berdin as Peter. Freshman Tiffany Albornoz, junior Nicholas Stella and senior Ella Malatesta also take on lead roles. Everyone taking a role in the musical deserves credit for memorizing their lines and the entire scene surrounding their lines. Although there's a script, the students involved create real, physical connections with their castmates, which makes the performance a  rewarding experience to be part of.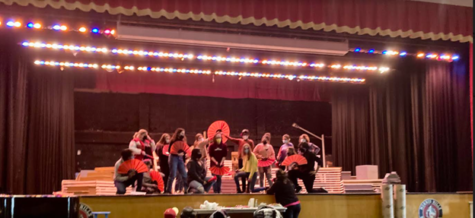 Another person important to the development of this year's musical is the director, Mrs. Lavin, who returned from retirement to work on this show.  During rehearsals, she gives personal feedback to her students in a meaningful way and hands out high-fives to reinforce her already-talented students. 
Mrs. Uhler, Morris Hills' choir teacher, is also involved in the musical's production. She uses her familiarity with the cast's voice abilities along with her piano to enhance the building of the music of the musical. Songs to look forward to include "Mermaid Out of Me," which includes fascinating choreography with fans as well as a very neat number in "Swim On."
The stage crew and the MH Prop Shop, which is made up of students in the GT Program are also doing a great job with the set. On-cue graphics, nice woodwork, and good overall set design make the stage very impressive. Contributions to the set were made by Morris Hills' own Prop Shop — a GT program that helps both the play and the musical have hand-made sculptures for their respective productions.  Mrs. Lavin is happy with the work of the stage crew, and looks forward to multiple additions to the stage before the performance.
Make sure to check out the musical! Performances will run on March 10th, 11th, and 12th, at 7:00 pm. Tickets are $10 and are sold at the door.. Good things to look out for, in the opinion of some cast members, are the music, the dancing, and even people's imprisonment!