Stress Baking: Finding Comfort in Cookies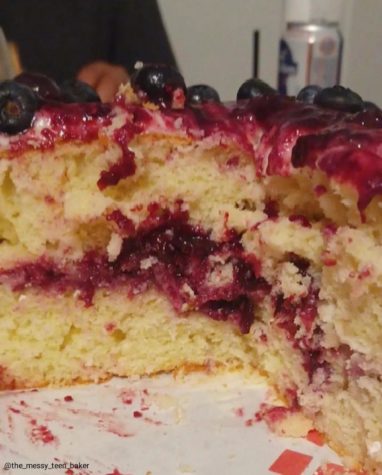 Biting into a gooey chocolate chip cookie is enough to make anyone's day better — but how about baking those cookies? Some people find baking to be methodical and relaxing, while others get overwhelmed by the thought of it. Stress baking alleviates — you guessed it — stress, by baking goods. Many people find baking to be a relaxer, but why?
Boston University's Arts & Sciences associate professor of psychology, Donna Pincus, describes baking as a rewarding process that also allows feelings of control. She explains in an article from BU Today, "During a time when we have had little control over an ever-evolving and difficult situation, it has been an adaptive coping." You may remember back in 2020, when COVID-19 first hit when baking bread became a huge trend, the term "quarantine cooking" was coined. People made all types of goods, from whipped coffee to cloud bread. The sense of control and gratifying outcome that came from baking in a situation that felt so outlandish at the time calmed anxieties in an uncertain world.  
From personal experience, I find baking to be a great stress reliever before testing. This allows me to channel my nervous energy before big tests and share my baked goods with my friends, making everyone a little happier. I find baking to be an overall great pick-me-up because you don't have to worry about getting something wrong — you're just following directions. When I'm feeling overwhelmed, baking is a way for me to shut out the world and focus on making something delicious and sharing it with others. Bringing a smile to their faces makes it worthwhile. 
Aside from my personal experience, I interviewed four other Morris Hills students about stress baking. Brenna Mulhearn finds baking to be stressful, from gathering the ingredients to the cleanup. "There's just so many bowls and spoons! Plus, what if I did all that work, and it comes out bad?" On the flip side, Ugonna Egbuchulam finds stress baking to be very relieving. Egubuculam shared that she gets stressed when school activities pile up or if there is a big upcoming test. Egbuchulam finds baking to be an escape, stating, "When I'm baking, it allows me to focus on something completely outside the world of my academics and activities and still feel productive. It also doesn't hurt that by the end of it, I get to eat a cupcake or cookie." She explained the pandemic allowed her time to discover baking and move into more advanced goods, such as crème brûlée. Egbuchulam also loves the sense of unity that comes from baking— the joy and time shared among each other, claiming it makes her and others feel appreciated. 
Rachel Quedding, a junior, explains that baking makes her feel better by distracting her and allowing her to collect her thoughts. Quedding states a big reason baking is relaxing is because she is good at baking, bringing attention to others that may find the baking process to be difficult and taxing. Zoe Fedullo, a sophomore, tells me baking is very therapeutic for her. She tries to find time once a week to bake something new to help regulate her emotions. She finds baking to be an immense help with her anxiety. You can find some of the baked goods Fedullo makes on Instagram @the_messy_teen_baker.
The satisfying form of self-expression known as baking is a great way to unwind and relax — it is a harmless coping mechanism in times of distress. Whether you find the process or the outcome the most rewarding part, you can always count on freshly homemade cookies or brownies to bring a smile to your face.