Senior Picnic: The Last Hurrah
Thursday, May 26th—At last, the long-awaited senior picnic has dawned. After two picnic-less years, the MH community was buzzing with excitement as seniors climbed up to Gifford. A wave of red, black, white, and gray flooded the field, as the respective teams got ready to compete. Events included a watermelon eating race, tug of war, toilet paper mummification, dizzy bat, soccer, and an inflatable wrecking ball competition.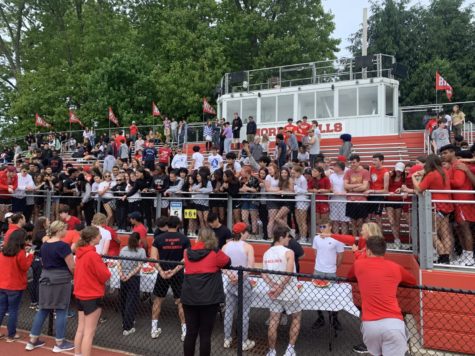 Senior class president Maddie Kirkpatrick says that she's happy with how the senior picnic ran. "It was like our last hurrah of high school," she said. At the conclusion of the event, seniors were able to get their hands on their final yearbooks (thank you to the staff of MH Torch for the wonderful 2022 edition). The picnic was a perfect way to close out the week before the long Memorial Day weekend. The next time the Class of 2022 is up on Gifford Field, they'll be walking across as Morris Hills graduates.