Unity: It's Written on the Sidewalks
On Friday, October 7th, members of the Teen Leadership Council gathered outside the school to draw messages on the stairs and sidewalks with multicolored chalk. The vibrant, pastel images held a greater purpose than just aesthetic appeal. The TLC chalk walk is done annually before Unity Week to promote kindness and togetherness among Morris Hills students. Messages including phrases such as "Treat People with Kindness," "Spread Love," and a largely drawn "Accept" greeted students at the end of the school day to begin the weekend on a positive note. 
Junior Grace Reilly, a longtime membe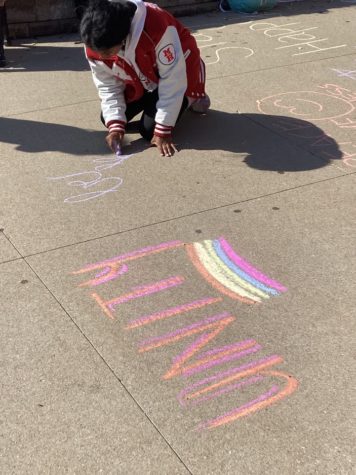 r of TLC, commented "The chalk walk was a lot of fun to participate in, drawing all the positive statements and coloring them in. We do this because hopefully all the positive messages and uplifting words will make someone's day a little brighter, and also bring the community of our school together."
TLC hosted Unity Day on Wednesday, October 19th. Students were encouraged to wear orange or crazy/mismatched socks as a pledge to "sock it to bullying." Unity Day is a national campaign sponsored by the National Bullying Prevention Center, and its signature color is orange because it is a symbol of safety for its vibrance. 
Ms. Gentile, the Student Assistance Counselor and co-advisor of TLC, alongside Ms. Bauer, commented on the importance of days like Unity Days within Morris Hills and high schools in general. "Anti-bullying campaigns are really important to keep reminding the school community to be mindful of their peers; it is a reminder of acceptance, unity, and respecting one another," she explained. "Our students have been exposed to many anti-bullying programs, but these pop-up campaigns are important to keep the topic of anti-bullying fresh and consistent throughout a student's high school career."
Days like Unity Day encourage the participation of all students and, as Ms. Gentile added, promote inclusion which is essential to a healthy and happy school environment. The Teen Leadership Council calls on all students to consider how they treat themselves and others. How can you make the school a better place?