Trending Costumes: What Are People Interested In This Year?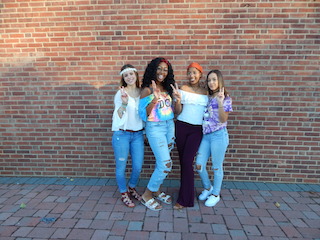 Ghouls and goblins wander in the dead of night. Candy is showered on people who ring doorbells and yell, "Trick or Treat!". Houses are decorated, pumpkins carved. What night is this? You guessed it. It's Halloween! Halloween has become one of the most popular times of the year. Trends in popular Halloween costumes may indicate people's  interests.
Two of the most popular costumes of the year were Hillary Clinton and Donald Trump. Children and adults alike took to the streets to show their support for their favored candidate days before the presidential election. They wore face masks or even inflatable bobbleheads to make their appearance seem as close to the two presidential candidates as possible. One reason why such a costume may have caught on is the controversiality of the two political figures and the American public's enthusiasm for expressing themselves.
Another popular costume was Pikachu, or anything related to the popular smartphone game Pokemon Go. Children especially favored dressing up as Pokemon, but plenty of adults dressed up as their favorites too. The smartphone game was hugely popular when it was released over the summer, with players having to walk around in the real world to catch fictional monsters to battle them against other Pokemon. The game became so popular at one point that people began to drive out of their way to access gyms and Pokestops. This gaming trend rekindled the public interest in the world full of these creatures, transported people back to their childhood, and carried over to their costume choices as well.
Clowns have been a trending costume as well, but there has been widespread controversy surrounding being a clown for Halloween. Earlier in the year,  news stations covered stories on pranksters and sociopaths dressing up as clowns to essentially scare people, but the matter became slightly more serious when the clowns started to use fake weapons, and fear began to spread. Yet there are many people who dressed up as clowns this year, possibly to join in on the prank or simply because they wanted to express their  personalities. Whatever the reason, choosing to be a clown may show one's lack of fear and unique personality, especially this year.
A final trend this year was superhero costumes, especially Harley Quinn, the front-runner of the Suicide Squad. Suicide Squad was an extremely popular DC superhero movie this year, and Harley's daring look and quirky attitude inspired countless women to dress up like her to express their individuality.
Halloween is festive, fun, and inspirational, but it is also a holiday to express personality and interests. Children, tweens, teens, and adults alike did just that. They helped to highlight what's important to think about in a fun and amusing way, with the most talked about topics of 2016 emerging as the most popular Halloween costumes too.