MH Class of '69 Reunites
On October 19th, while the Hills students of 2019 prepared for Homecoming, the Hills graduates of 1969 were celebrating their 50th high school reunion. 
Saturday's event was preceded by a more informal get together that Friday, where the Class of '69 met in Rockaway to chat and reminisce.
The event had no official program; instead, people walked around the room, searching for familiar faces and saying hello to old friends. When two individuals did recognize each other, the response was delight. People hugged, talked as if no time had past at all, and, on one occasion, sang the class chant: "We're so classy, we're so fine, we're the Class of '69!".
For '69 graduate Robin Rath, a former member of the Hilltopper staff, the reunion was an opportunity to reflect on her high school self. "We don't feel any different than we did when we were eighteen years old," she remarked. 
This became clear as the night progressed. In talking about their high school experiences, the Class of 1969 became teenagers again, not just remembering the excitements, fears, and joys of adolescence but reliving it.
They told stories about the traumatic gym showers, the unwaveringly strict dress code, and, of course, the event of the year known as Sports Night. Other memories were simply smaller glimpses into life at the time: the smoking area outside the cafeteria called "the Pit," the corsages girls received on their sixteenth birthdays, and the bonfires that used to be held after games. 
While Morris Hills fifty years ago would appear unrecognizable to many students today, the emotions and dynamics the Class of '69 described would be familiar. The alumni discussed a wide variety of topics, from the anxieties of taking the SAT to the division of cliques amongst the lunch tables. The building and the student body have changed, but the hills and valleys of adolescence have not.
As someone who made it through high school and beyond, Jim Slack, a '69 graduate, had advice for the modern teen. "Live your dream." he said. "Be passionate about it. Don't take it for granted, because you'll turn around and fifty years are gone behind you."
It's a lesson that students today can take to heart, straight from a Hills alumnus who walked the same halls only a few decades earlier: carpe diem. 
A Girl's Life at Hills
Some of the most dramatic differences between Hills in 1969 and Hills today can be seen in the life of a female student. For girls fifty years ago, school meant family living classes, beauty classes, and lessons in sewing along with the core curriculum. Every day, the dress code required a skirt or a dress with a hem that hit the knee.
Other traditions of the time include the Miss Morris Hills competition, an event that is much like the modern Mr. Morris Hills event, and gym classes separated by gender. Girls were also required to wear uniforms known as "gym suits" during their physical education classes, which is still remembered by the female graduates of '69 with strong disdain.
While the women at the reunion were able to laugh about the uniforms, they had more serious reflections on one other tradition: the post-gym class shower. 
"It was the most traumatic thing I think you could do to a teenage girl," reflected Linda Ginsburg Ostheimer, who was a senior at Hills in 1969. "It was horrible for everyone. There wasn't a person who was happy to be doing it."
While the use of the showers continued after 1969, it is no longer common practice. Today, the stalls in the locker rooms store sports equipment.
Fifty years ago, this storage space was not necessary because there were no athletic programs for girls. Female students were only allowed to participate in cheerleading, with today's popular sports like soccer and track only available to boys.
Of course, this rule did not stop some from trying to play sports. In eighth grade, Hills alum Susan Kokara was class champion in a track race. She decided to pursue track in high school and asked the coach of the Morris Hills team if she could join. Unfortunately, he said no on the basis that she would "distract the boys."
The passage of Title IX in 1974 changed the way gender was handled in education, requiring sports teams for all interested female students. Today, girls at Hills can choose from 19 different sports in which to participate.
The changes from 1969 to 2019 reflect how far society has evolved. The women's rights movement of the 1970s inspired some of the progress seen at school, so that female Hills students today would find a girl's life fifty years ago nearly unrecognizable.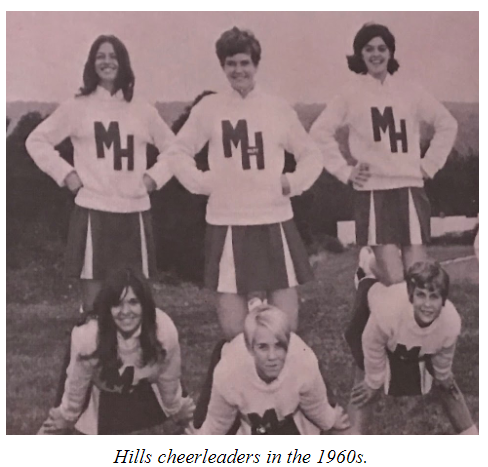 Football is King
American high schools are unique in many ways, most notably by the popularity and prevalence of football. In many towns, football is the heart of a school's culture and a platform for many social events.

It was no different fifty years ago at Morris Hills, where, as 1969 graduate Jim Slack puts it, "football [was] king."
The tradition of the Hills-Knolls football game had not yet begun, but games still saw high attendance. On the weekends, buses at Hills would transport students to games at nearby towns, where they would gather to show school spirit. 
This popularity is in part thanks to the team's great success. According to star player and Class of '69 member Bruce Bannon, they "played as a team," ultimately winning the conference championship three years in a row. Bannon, who would go onto play professionally as part of the Miami Dolphins, looks back fondly on his time playing football at Hills for this reason. "I made a lot of friends," he added. "And they're still my friends after all these years."
Along with being a popular sport, football was the center of school events. Every year the school would elect a female student to be the Football Queen, a roll similar to that of today's Homecoming Queen. In 1969, the Football Queen was Angie Lusardi, who was present at the reunion wearing a Hills football jersey. "It was a very humbling thing," she said. "I did not expect it." 
Although today's traditions are slightly different from what they were fifty years ago, Morris Hills' football culture is still alive. Students attend games, buy season t-shirts, and show off their school spirit. If anything, in 2019 football is growing, as this year marks the first female football player on the Hills team. Even as the times change, the love of football at Morris Hills stays strong.