Pushing Boundaries in Football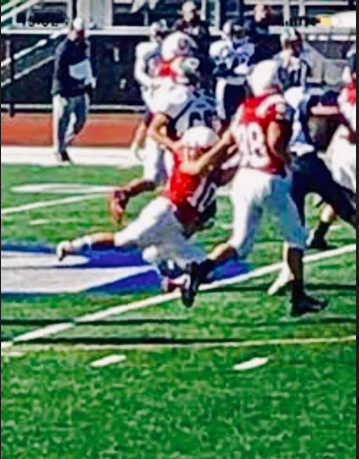 Within the first week of the school year, freshman Cecilee MacCheyne has already made school history. For years, Morris Hills has prided itself on its distinguished football team. The red and white Scarlet Knight jerseys embody the competitive and diverse culture of Morris Hills. This year, the team adds a dynamic element to their already stacked arsenal with freshman Cecilee MacCheyne taking the field. MacCheyne is the first female football player to represent Morris Hills, breaking a significant gender barrier that had been prominent for many years prior.
Football has been an important aspect to MacCheyne's life since she was young. When she was five years old, she started watching NFL games live on TV and developed a passion for the sport at a young age. However, she was not content just sitting on the couch and watching the sport; she wanted to be a part of the action. Quickly, her dream turned into a reality and MacCheyne established herself as a determined football player. She is a versatile athlete, and willing to take on any role to help the team win. Along the way, MacCheyne has received a great deal of support from her friends, family, teammates, and coaches. "They inspire me to thrive and I know they will support me with every decision I make,"  MacCheyne said. She is eternally grateful for the opportunity and constant support. She added, "without my real supporters I would not be the young woman I've grown into these days."
Although MacCheyne is indeed a groundbreaking figure, at the core, she is truly just a dedicated football player positively contributing to the renowned Morris Hills football team – and she hopes to be viewed this way. The extra attention that is directed towards MacCheyne for being the only female on the team does not deter her, as she "doesn't want to just be known for the girl who plays football." Rather, MacCheyne wants to be recognized as part of the team's success on the field. One figure who is particularly instrumental to MacCheyne's role on the team is Coach Giovine. MacCheyne said, "He's beyond respectful and takes full pride in coaching me. He doesn't treat me different just because I'm a female, he lets me on the team as just another player. He is an amazing coach and an amazing person overall." Mr. Giovine has welcomed Cecilee's presence on the team, and he believes "Cecilee has had a significant positive impact on our team. Her enthusiasm for the game is infectious and she sets a great example for the other players by hustling non stop and always arriving first for every drill."
From watching NFL teams as a kindergartner every Sunday to playing games as part of her own team on a real football field, MacCheyne has made significant progress in her journey as a football player. However, her story has only just begun; MacCheyne hopes to continue to break many barriers in the future.