A Monumental Fencing First at Morris Hills (STATES!)
The air is electric. And not just in a figurative sense: several long chains of silver panels, known as electric strips in fencing, adorn the lacquered wooden floors, transforming the beloved Morris Hills gymnasium into a venue for arguably the most important fencing match of the season: the state championship final.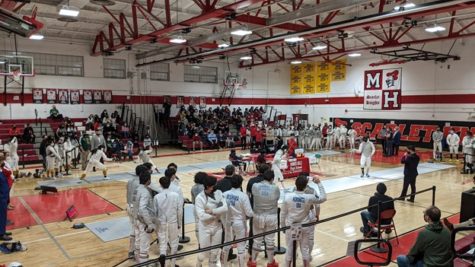 Preparations are frenzied, but controlled on the MH fencing team's part. Students mill about, each individual a cog in the clock of preparation. This scene would have differed vastly if it had taken place only one year previously. In addition to a plethora of new fencers to the MH program, the gym now swarms with returning faces. It has been an exciting first season back for many others, who were forced to take a gap year previously due to the COVID-19 pandemic. 
Fencing at Morris Hills
Over the course of the season, returners and "newbies" alike have been able to forge stronger relationships with teammates and coaches. One such fencer, Vanshika Pahilwani, is gratified that she was able to form closer bonds with her coaches, even citing a scintillating conversation with assistant Coach Lefty as being her favorite fencing memory. 
When asked about her favorite moment in the season, girls foil Captain Allison Ramsey enthusiastically recalls the meet against WW-P North that advanced the MH girls for the state quarterfinals. That night was an eventful one for all; this year, both the Morris Hills boys and girls qualified for the state quarterfinals–a remarkable accomplishment–although they did not advance further. Overall, the girls finished with an 11-3 record, and the boys wrapped up the season 10-4. 
It is an admirable finish; men's foil senior, Gavin Tomasco, is particularly proud about his squad's accomplishments this season. He elaborates, "We were all working really hard in practice…we built off the talents of not only our starters, but we achieved a depth of ability throughout the whole squad", as to why his squad was so successful this season. Notably, the men's foil squad won gold during County tournaments, having only lost 3 bouts the entire day. All of Morris Hill's men and women squads achieved similar degrees of success–with top 3 finishes in all disciplines–allowing MH to take the overall team title. Six outstanding fencers qualified for Individuals this year (held at Morris Knolls) as well. 
Meeting the Contestants
Although States are being held at Morris Hills, the night is ultimately about the competing fencers. Fencer by fencer, the qualifying teams–Columbia, Montogmery, Newark Academy, and Ridge–file in. There are various directional signs plastered all over the hallways and gymnasium to guide them to their respective places. Head coach Lisa had taken great pains to ensure that the championship bouts proceeded as smoothly as possible. After all, Morris Hills has always been renowned for its excellent sportsmanship and hospitality. More than that, the Morris Hills fencing program has always been about community. As Coach Lisa notes, "There are other programs where it's just a bunch of individuals who fence. This one, it's more about depth and supporting each other." Multiple seniors share this sentiment, with many describing this sense of community and camaraderie with teammates to be an aspect they will miss most about fencing at MH . 
Champions Emerge
After a thrilling night of hard-won bouts and skillful fencing, two teams emerged victorious. Montgomery won the women's state final with a score of 16-11, while Newark Academy won with an identical score of 16-11 for the men. Congratulations to both teams on their first-place finish!
The End of a Season
With this decisive, action-packed climax, the 2022 fencing season is well and truly over. For me, this has been a bittersweet ending to a remarkable first fencing season. While I can't say I was expecting a coming-of-age movie ending, it would have been exhilarating to witness a Morris Hills championship state match. At least there will always be next year…