Pioneering the Sport of Wrestling: Kyara Montoya and Matt Leslie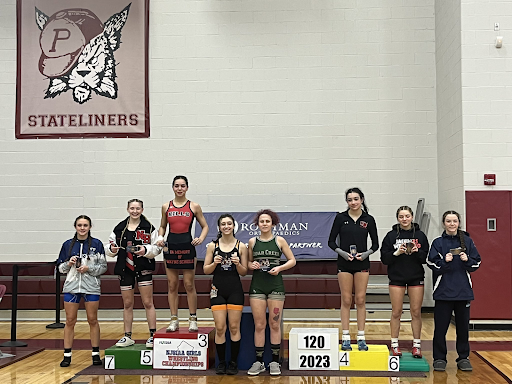 Morris Hills High School has a lot to celebrate after two wrestlers made history at the regional and district-level championships. Kyara Montoya and Matt Leslie both displayed incredible skill and determination on the mat, winning their respective divisions and bringing championship titles to Morris Hills.
Montoya, a pioneer of the Morris Hills Girls Wrestling program competed in the 120-pound division and dominated her opponents throughout the tournament. With her lightning-quick takedowns and expert grappling technique, she quickly finished off her opponents and secured her spot in the championship match.
In the final, Montoya faced a tough opponent from Northern Highlands High School, Amanda Connors, but she never caved under pressure. With the support of her teammates and coach, she took to the mat with confidence and poise, determined to take home the regional championship.
The match was fiercely offensive and defensive from the beginning, with both wrestlers trying to make aggressive moves throughout the match. However, Montoya's skill and her experience eventually proved too much for her opponent as she emerged victorious in a hard-fought match with a massive pin. 
Montoya's championship win is a testament not only to her own skill and hard work but also to the pioneering spirit of the Morris Hills Girls Wrestling Team. She showed that anything is possible if you have patience. 
On the other hand, Matt Leslie was also making his own story on the men's side of the tournament. At 165 pounds, Leslie faced tough opponents from rival schools, including Gavin Gomez of Morris Knolls in the district championship fight.
But Leslie was not intimidated by the challenge. With his lightning-quick reflexes and impeccable technique, he dominated his opponents throughout the tournament and emerged as the clear favorite to win the championship.
In the finals, Leslie faced Gomez in a high-stakes match that made the whole crowd nervous. However, Leslie refused to take the pressure. With the support of his teammates and coaches, he stepped onto the mat with confidence and determination ready to make Morris Hills High School history.
This match showcased Leslie's incredible skill and technique in taking takedown after takedown and maintaining the opponent's defense. Ultimately, he won a hard-fought championship with his experience, skill, and the support of his peers.
Leslie's championship victory is proof of his own hard work and dedication, as well as the strength and depth of the Morris Hills Boys Wrestling team. With his victory, he showed that with determination, skill, and a never-say-die attitude, anything is possible.
In the end, both Kyara Montoya and Matt Leslie made wrestling history at Morris Hills High School, proving that with hard work, determination, and love of the sport, anything is possible. Most importantly, they inspired teammates, coaches, and fans with their incredible performances.