Morris Hills Senior Wins Big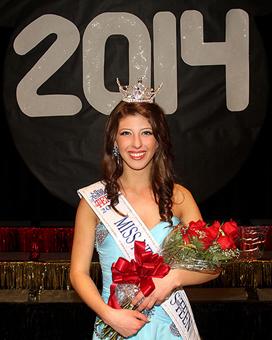 Seventeen year old Morris Hills Senior, Samantha Rizzuto, took the winning prize at the 2014 Miss NJ Outstanding Teen Pageant. "Being in a pageant wasn't easy," she said. "It was a lot of hard work and dedicated time." The Miss New Jersey Outstanding Teen Award is the feeder program for Miss New Jersey pageant. This program is sponsored by The Miss New Jersey Education Foundation. It is also a scholarship organization that is a part of the Miss America system. Although the stress of the pageant was present, Sam also stated "It was a lot of fun. It was awesome to hear what everyone was passionate about." Sam won a full tuition scholarship to Auburn University where she will study next year. Sam also won $3,000 dollars in additional scholarships.
Sam herself is very passionate about the program she created called STEM-CAM. STEM-CAM is a program where she teaches students about science, technology, engineering and math. So far over 1000 students have joined STEM-CAM, and it is still in the process of growing. Sam won her title in June and was presented with the state award. Samantha then continued to Washington DC to receive the National Jefferson Award and got to meet with Senator Corey Booker to talk more about her STEM-CAM program.
The pageant wasn't the end of Sam's exciting journey this summer. Sam was also a part of Girls State and was fortunate enough to be elected State Assemblywoman and appointed to the County Sass Master. Sam said "Girls State was an amazing opportunity to practice public speaking and to learn more about our nation and the true meaning of patriotism."