Trap Boi Brizzl Takes MH Stage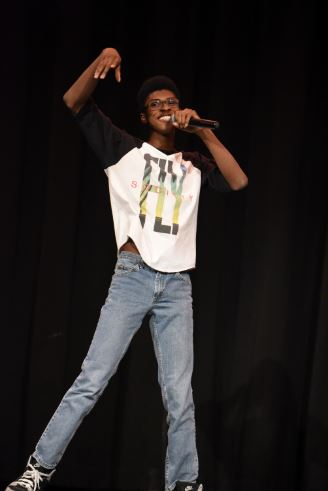 The only rapper who participated in the Morris Hills GT Showcase, Daniel Hall, also known by his stage name of Trap Boi Brizzl, has been rapping for approximately a year. However, his passion for rapping began at a much younger age. Having first realized his passion for rapping at the age of 7, he began to pursue this as a hobby, and at age 12 he began writing lyrics. Trap Boi began publishing his music on Soundcloud as d_brizzl. After releasing his first mixtape, "Flamecube," on December 25, 2016, he changed his name to Trap Boi Brizzl.
Trap Boi has had his music released on several platforms, including Soundcloud, Spotify, and Apple Music. Since 2016, Trap Boi has released seven mixtapes on Soundcloud, beginning with his mixtape "Flamecube".
Trap Boi has accumulated several hits on Soundcloud, eight of which have gained over 1000 listens. When asked how Morris Hills contributed to his pursuit of his rap career, Trap Boi said, "Yeah, Morris Hills people who buy my CDs and stream my music help my career."